Contrary to reports, Kim Kardashian is not about to become a married woman – at least, not yet.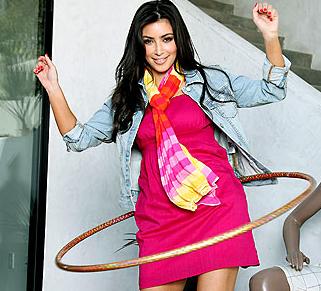 Kim and her NFL beau, Reggie Bush, are not engaged, a representative for the reality star confirmed her mistake.
"Kim is NOT engaged. I had that wrong," her red-faced representative, Jill Fritzo, said. "We just started working with her recently so I didn't know."
A tabloid report on Wednesday suggested Reggie, 24, had popped the question to Kim, 28.
In addition, Kim hit her blog on Wednesday to clear up the misinformation.
"I am not engaged!!! My new publicist was talking with Star Magazine earlier today and accidently [sic] referred to Reggie as my fiance so they posted the news on their website!" she wrote. "There have been so many rumors flying around recently about Reggie and I being engaged that she assumed we were!"
The raven-haired beauty also shot down reports she had been shopping for her own engagement ring.
"The rumors about me picking out my ring already are also not true! I don't know where all this comes from!!" she added. "Don't worry guys, you will be the first to know if and when I get engaged!!… Well after I tell my family, of course!"
Kim and Reggie have been dating since 2007, when they met during a chance encounter at the ESPY Awards after Reggie's former USC teammate and current Arizona Cardinals quarterback Matt Leinart introduced the couple.
"My stepdad, Bruce, and I were walking to our seats and Matt called my name. When I went over, he was sitting with Reggie…. Matt introduced me to the love of my life and we will always be grateful," Kim previously told AccessHollywood.com.
In fact, Kim's mom also played a part in the love connection – albeit unknowingly.
"My mom got the flu and my stepdad, Bruce, had to go to the ESPYs. He was stalking me all day to go and I didn't want to because I don't care about sports. But my mom forced me to go," Kim added.
But if they do decide to tie the knot, will the couple's nuptials play out in front of the cameras for all to see?
Unlikely, as Kim previously told People she was hoping for a wedding "without cameras."
Comments
comments