Joe Jonas has revealed his passion to do more acting on the big screen.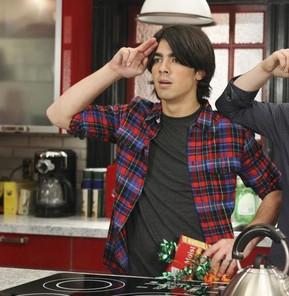 The Jonas Brothers each told their life ambitions to Radio 1 whilst promoting their upcoming movie Jonas Brothers: The 3D Concert Experience.
"I'd love to do some more acting in movies and hopefully get into that in the next few years," said Joe.
Kevin admitted that "directing sounds like a really good time, and also producing for other bands and things like that", while Nick's goals include "producing and writing for other artists…and also continuing to make music together."
The Jonas Brothers' new film opens in UK cinemas on May 29.
Meanwhile, The Jonas Brothers struggle to keep a foot ahead of screaming fangirls in this new still from their new series, JONAS.
In their recent episode "Keeping It Real," Sandy (Rebecca Creskoff) is upset to see her boys growing accustomed to the perks of fame so she calls for a more normal home environment. However, Kevin, Joe and Nick find it hard to complete even the simplest of tasks, like taking out the garbage, without being mobbed by fans. Then, a growing crowd of fans trap them inside a local store and now the guys must devise a plan to make it home in time for their normal family dinner.
Comments
comments