John Mayer reportedly tried to woo Jennifer Aniston back by writing her a love song.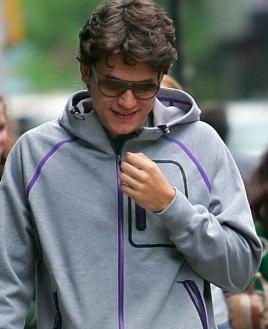 The "Gravity" singer, who called off his three-month relationship with the "Friends" actress in August, also promised to quit smoking and drinking to cement their romance.
A source dished the scoop: "John has even written a song about their time together and played it to Jennifer who was incredibly touched. He initially called things off because he didn't feel ready for commitment. But after a considerable time apart, his priorities have changed and he wants to make a go of things."
The source added: "Determined to show he's changed, John has cut right back on his drinking and has pledged to quit smoking roll-up cigarettes – two things that really annoyed Jennifer."
After their split Jennifer, 39, was so devastated she refused to speak to John, 31.
However, time apart made John realize how much he cared for the star and he reportedly began sending her romantic text messages in an attempt to win her back.
The source explained: "For a while Jennifer cut off all ties and refused to speak to him. But over the past few weeks, they've both realized how good they were together and how much they mean to one another. It's still early days and John is by no means off the hook. He has serious grovelling and making up to do."
The couple recently sparked speculation they had reunited after they were seen passionately kissing at a Ray LaMontagne concert together before sharing a private plane to Los Angeles.
John was also seen "sneaking out" of Jennifer's home last week, after the pair had been out for drinks with friends the previous evening.
Comments
comments