Three movies as Captain Jack Sparrow in the "Pirates of the Caribbean" may not be enough for Johnny Depp.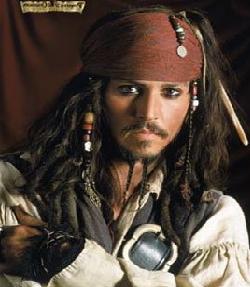 The actor said he would consider taking the oddball character out for one more spin.
Johnny Depp revealed, "It's been a great experience. Trying to discover who Captain Jack was, getting slapped around by the Disney people — it was all fun."
The actor played the role of a pirate named Captain Jack Sparrow, who is rescued at the beginning of the movie from Davy Jones' Locker, where he wound up last year at the end of "Dead Man's Chest," to begin a journey that takes the Black Pearl and its crew to, well, the end of the world.
Johnny Depp, who was nominated for an Oscar for his quirky portrayal of Captain Jack, revealed the pirates may rise again.
The actor revealed, "There was always that potential that each of us would have to say goodbye to the character. But if it is over, which one never knows, Captain Jack will always be with me."
Even so, producer Jerry Bruckheimer revealed, "This is the end for now. I think everybody is exhausted and needs some time off. We're all going to take a little break."
Comments
comments