Johnny Depp looks ultra cool in mirrored shades as he exits his hotel in San Juan, Puerto Rico on Thursday (April 2).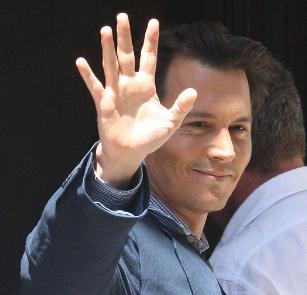 The 45-year-old actor was spotted shooting his upcoming movie, The Rum Diary. (It's the same hotel that Disney is shooting their Wizards of Waverly Place movie.)
His fans might be very excitable, but Johnny's been looking as cool as a cucumber while filming.
In the film, Depp plays freelance journalist Paul Kemp who finds himself at a critical turning point in his life while writing for a run-down newspaper in the Caribbean.
His work isn't limited to movies these days — he's also set to guest star on an upcoming episode of SpongeBob SquarePants. His character teaches SpongeBob how to surf, so maybe Johnny can use his current experience in the Caribbean as an added bonus.