Lily-Rose, the daughter of the actor Johnny Depp, was seriously ill with the lethal E.coli virus. According to a report, the illness caused Lily-Rose's kidneys to shut down — and she was lucky to survive.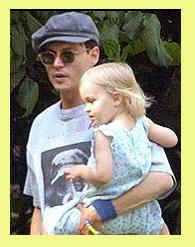 A source revealed, "Everyone gasped when we were given the real reason for Lily-Rose's illness. It was touch and go for her for a while."
Johnny Depp declined to continue filming until his seven-year-old daughter was out of danger. Fortunately, Lily-Rose is said to recover after she returned home in France.
The producers of Warner Brothers revealed that the filming of the Johnny Depp's new movie "Sweeney Todd" would continue on Monday.