This time last year no one would have guessed that "Jon & Kate Plus 8's" Jon and Kate Gosselin and their brood would be every bit as cover worthy — if not more — than Brad Pitt, Angelina Jolie and their kids.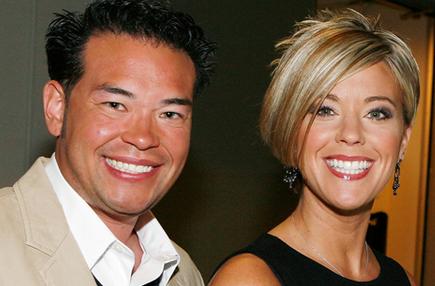 More than six weeks into the celebrity weekly coverage of the family's struggles, Gosselin fatigue has yet to fell the nation.
Case in point: According to different industry sources, last week's issue of People magazine with Jon opening up about his marriage was one of the year's best selling — some early estimates have sales hitting the 1.8 million mark. (A rep for People says, "While it's too early to give an exact sales number, we can say that it looks to be a very strong seller for People.")
During editorial meetings at several weeklies, the decision over who to devote resources to came down to a choice between the Gosselins and the Jolie-Pitts.
"We never thought that there'd be a reality show couple not just vying for ink in the pages, but selling on par with the Jolie-Pitts," says one editor. "I think it speaks to the time we're in. We want celebrities we can relate to. When Angie has a baby, we can relate to that. When she's filming a movie, it's interesting, but it's missing that 'I've been through that, too' connection. Parenting struggles, marriage problems, cute kids? That resonates. People want to know they aren't alone in what they're going through. It's part of what makes it the Gosselin's time."
Tiresome as it is, there's something fascinating about watching Spencer Pratt flip flop on whether he wants to be part of "I'm a Celebrity: Get Me Out of Here."
As of press time, Pratt's needle was pointed in the "please, producers, take me back" direction. Here's where things stand. According to a source on the ground in Costa Rica, Pratt and his wife Heidi were indeed on a plane headed away from the show's set Sunday. But they weren't headed for L.A.; they were headed for the Four Seasons in Guanacaste, Costa Rica.
"He's killing time, watching the show get coverage without him in it, and wants to come back," said the source.
What are the odds? "As of right now, it doesn't look like he's going to be allowed back. But things do seem to change every day."
Remember when Oprah Winfrey scandals were less about lies and more about snubs? If you do, you probably remember when Jonathan Franzen, author of "The Corrections," declined Winfrey's offer to be part of her book club. Well, the infamous author (who later said "I feel bad in a public-spirited way," about the dust-up) has his first piece of fiction in four years in this week's New Yorker. "Good Neighbors" taps into what we are curious about in America right now. Who are our neighbors, what do they think, why do they do what they do? If there was a genre called "literary iteration of reality TV, but one you don't feel dirty reading," this would qualify (sorry, Franzen, I'm sure that made you cringe. But it's a compliment). Either buy the mag, go online and print it out or call it up on your Kindle. This is worth the read.
In the spirit of the 65th anniversary of D-Day, get your hands on the National Geographic Ultimate World War II Collection: Deluxe edition, out on DVD Tuesday. The 425 minutes it will take to watch all the footage pales in comparison to the sacrifices made during World War II.
Comments
comments