DJ Jo Whiley sent The Jonas Brothers outside Radio 1 to play an impromptu gig but she hadn't counted on the dedication of the band's teenage fans – who raced to see their heroes.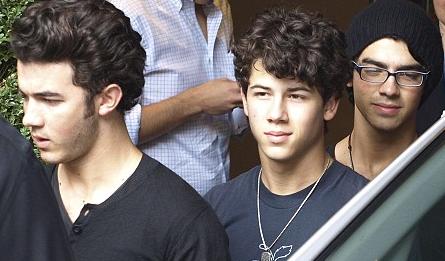 Hundreds of girls managed to slip out of school, or away from their study leave, and made their way to the central London studios.
The "Burnin' Up" singers asked the growing crowd for silence, before performing with their guitars for five minutes. The gig was the first time an act has played a gig on the doorstep of the studios.
Nick, Joe and Kevin had been on Radio 1's Live Lounge to play a few songs after giving an interview to Jo as part of their promotional tour.
They performed their single Paranoid and a cover of Katy Perry's Thinking Of You.
When asked about his romance with Miley Cyrus, Nick revealed he's happy that they have 'reconnected' – the same term she used when announced their friendship was back on last week.
The Disney star brothers are playing Wembley tonight before heading back to the States to kick off their world tour on Friday.
Yesterday they were in Paris and before that in Madrid, where Nick celebrated his high school graduation. "I'm happy to announce I have graduated! Class of 09! Congrats to everyone else who has also graduated this year! -Mr. President," so he tweets.
In another news, Nick and his singer brothers, Joe Jonas and Kevin Jonas, were seen leaving their hotel in Paris, France on Sunday afternoon, June 14. The threesome was in the country to kick off their world tour in Europe.
Later on the day, Nick, Joe, and Kevin went sightseeing. They, moreover, also stopped at the Virgin Megastore on the Champs-Elysees. Middle brother, Joe, even tweeted, "French pizza is good."
Comments
comments