The Jonas Brothers have plenty for fans to look forward to this year.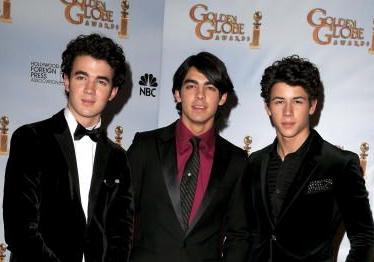 Kevin, Joe and Nick took to their MySpace blog to give an update on what's in store.
"We will be announcing the dates for our world tour very soon," they wrote. The stops will be announced as early as February — or by mid-March — they said.
The brothers also wrote about their new TV show, JONAS, which they have continued filming in L.A.
"It has been so much fun to see our show come together," they wrote. "We love our cast and crew. We have seen some of the footage, and we can't wait for you to see it in May of this year."
In the blog post, they also talk about their 3D movie, Jonas Brothers: The 3D Concert Experience.
"We just saw a screening with some fans in Dallas from our Fan Club — TEAM JONAS," they wrote. "It was amazing. Everyone was singing, clapping and dancing. We cannot wait to hear how you feel about the movie."
The movie is set to be released in the U.S. on Feb. 27.
Meanwhile, This might be a bad news for Jonas Brothers and their fans. The trio, who have reached a Grammy nomination for the category of Best New Artist, have been nominated for Worst Band by the British NME Awards 2009.
NME has revealed the nominations for the Shockwaves NME Awards 2009 on Monday, January 26. And Jonas Bros' album "A Little Bit Longer" has also been nominated for Worst Album.
Fall Out Boy, Oasis, Scouting for Girls and Tokio Hotel are also up for Worst Band nomination. Surprisingly, Britney Spears' album "Circus" and Coldplay's "Viva La Vida Or Death And All His Friends" are also nominated for Worst Album, joining Razorlight's "Slipway Fires" and Scouting for Girls' "Scouting for Girls".
Comments
comments