Nick, Kevin and Joe Jonas touch down in New York on Saturday morning as they begin their weekend-long, surprise-theater invasion! Will they appear at a screening of 'Jonas Brothers: The 3D Concert Experience' near you?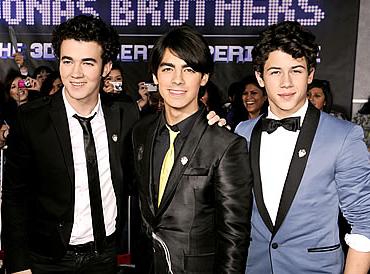 The pop trio is sweeping across the country this weekend, surprising fans with unexpected "pop-ins" at numerous screenings of their new movie (in theaters now) and thanking fans personally for their support. The JoBros' theater invasion is powered by Marquis Jets and Net Jets.
ET has video of the band surprising hysterical fans at a midnight showing of their big-screen extravaganza in Hollywood on Friday.
Meanwhile, Jonas Brothers appear topless in their new film.
The US boy band are filmed getting changed backstage during a concert in 'Jonas Brothers: The 3D Concert Experience' and admit they were slightly taken aback when they realised they had been caught on camera flashing their flesh.
Asked whose idea it was to film them topless, Joe replied: "That's an interesting question. It was actually just everyone's collaboration. We wanted to film everything backstage, and that just happened to be our quick-change room and they caught us. It was really funny."
Nick added the group got so used to being followed by cameramen they eventually forgot they were making a film.
He said: "The thing is, we were in the midst of the show, so we were just continuing like a show. So when we went backstage, we didn't realize they were there and we were changing … we went, 'Oh my gosh! Wow! We might want to get them out of here.' So it was in the moment!"
However, the brothers have overcome their embarrassment and are keen to find out what their fans make of the film.
Joe said: "We can only thank them. This movie is a thank-you to our fans."
Comments
comments