Disney teen idol Miley Cyrus lived up to her wholesome image during a bike ride with boyfriend Justin Gaston yesterday.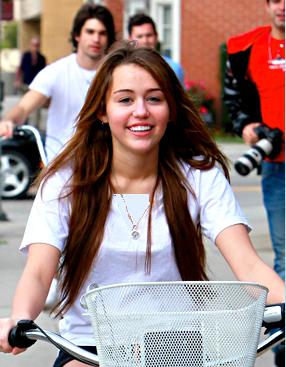 The 16-year-old star was snapped pedaling through the Toluca Lake area of Los Angeles.
Dressed down in a white T-shirt and shorts, the Hannah Montana star looked casual and carefree during her outing.
It looked like a welcome break for Miley, who received criticism recently after a controversial picture surfaced of the star seemingly mocking Asians.
The photograph, taken with her boyfriend and a group of friends, shows the teenager pulling the corners of her eyes back.
After the image was leaked on to the internet, Asian American groups condemned the pose as 'racist' and demanded an apology from the teenager.
The singer used her official website to hit back at the accusations.
She wrote: "I've been told there are some people upset about some pictures taken of me with friends making goofy faces! Well, I'm sorry if those people looked at those pics and took them wrong and out of context. I'm no way was I making fun of any ethnicity."
Comments
comments