Justin Timberlake and 50 Cent have penned a racy new single about watching porn. The pair wrote the "dirty" track – currently titled 'Ayo Technology' – earlier this year after producer Timbaland introduced them.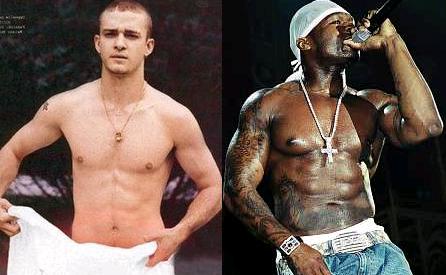 A source revealed, "The track is an analogy for watching porn. The word 'technology' was put in as a way to replace what they really wanted to say – 'pornography'. It's all about being fed up with having to make do watching dirty movies and how desperate they are to have real-life stunning girls."
Justin and 50 Cent will reportedly film the video for the song this weekend with Los Angeles director Joseph Khan. It will see the pair star as sex-obsessed 'Matrix' style secret agents who spy on women.
The source added, "They will wear hi-tech gadgets and night-vision goggles which enable them to see through the girls' clothes. It's a cat and mouse situation with car chases and gadgets galore but spying on the girls is the main theme. It will be creepy and sinister. They are going to push the envelope."
Comments
comments