Kate Middleton, the former girlfriend of Prince William has topped a list of the most fashionable celebrity hat wearers in 2007.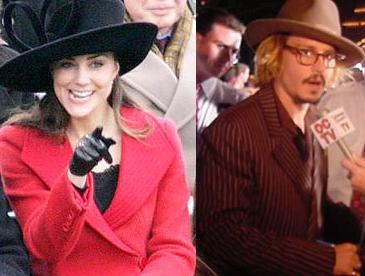 The 25-year-old brunette beat Victoria Beckham to the top female spot on the annual list, compiled by Luton's millinery and hat-making industry, reports Contactmusic.
Also on the women's list were Nell McAndrew, the Duchess of Cornwall and Jennifer Lopez.
Leading the men's brigade was Hollywood heartthrob Johnny Depp as the best hat-wearing male, beating Justin Timberlake, David Beckham, Boy George and Prince Harry.
The top hat wearers are:
Females:
1. Kate Middleton
2. Victoria Beckham
3. Nell McAndrew
4. The Duchess of Cornwall
5. Jennifer Lopez
Males:
1. Johnny Depp
2. Justin Timberlake
3. David Beckham
4. Boy George
5. Prince Harry
Comments
comments