It seems that Kate Middleton, the girlfriend of Prince William, is petrified to become a queen.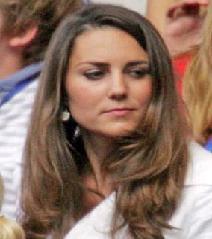 A source, which is close to the brunette beauty, revealed that she fears she cannot live up to the standards of the royal family.
The source said, "She and Wills love each other dearly but Kate has just woken up to what the next few years could have in store. She is suddenly realizing the enormity of what could lie ahead if she walks down the aisle with William. It's one thing having an on-off relationship with Wills, it's quite another thing becoming Queen."
Another source dished that the 25-year-old brunette has seen how the royal family turned its back on Princess Diana, even though the princess came from an aristocratic background.
The source revealed, "Kate is concerned that those before her who have married into the royal family have come from an aristocratic background and are from old money. She has seen how the royal family washed their hands with Diana-and the princess had a privileged background and came from the right breeding. Even Sarah Ferguson's dad was an army man through and through and was part of the polo set. Kate is just from a very normal middle-class family who have done exceptionally well for themselves. They don't live on a huge estate or have titles before their names."
According to the source, Prince William and Kate Middleton have rekindled their relationship after six weeks of break-up. However, they are still keeping a discreet distance from each other.
The source added, "They were keeping a discreet distance from each other. By no means were they walking round hand in hand. The pair don't want their lives turning into a circus and the less they are seen out together, the less pressure is put on them."
Comments
comments