Her parents may have built up a multi-million-pound company, but Kate Middleton has turned to Sir Richard Branson in a bid to sharpen her business acumen.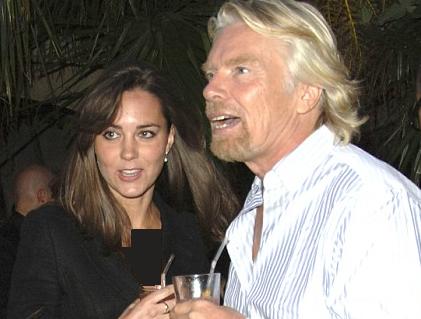 Prince William's girlfriend has had a series of meetings with the billionaire, who has helped set up a partnership between his Virgin empire and her parents' Party Pieces mail-order business.
The Middletons' firm will now offer 'experience days' – such as surfing lessons and trips to football grounds and recording studios – in conjunction with Virgin.
A source said: "Kate is very close friends with Sir Richard's daughter Holly and has had several meetings with Richard. She's kept in regular contact and asked Sir Richard for his business advice. She respects him and thinks his guidance will assist her carving a new career for herself."
The source added: "He was only too happy to help her and has been instrumental in helping to set up the partnership with Party Pieces."
In the past Kate, 27, has been criticized as 'workshy' for her lack of a proper career. But sources say she now has an increased role at the Berkshire-based family firm.
"When Kate graduated from St. Andrews University, she didn't really know what she wanted to do," the source went on.
"She thinks the criticism of her being workshy is unfair, as she's really committed to her marketing role at her parents' firm. She has been taking a more active part in the business recently using contacts she's developed through her relationship with [Prince] William and she hopes the relationship with Virgin will help make the company even more successful."
"Kate is determined to increase the Party Pieces profile and thought this would be the perfect partnership."
Friends of Kate also say she plans to help restore her family's reputation after the shocking drug revelations about her uncle Gary Goldsmith – the brother of her mother Carole.
"Kate's family are trying to distance themselves from Gary,' the source added. 'They really hope they can get away from the idea that they are linked to a drug-taker and focus on moving in the right direction."
Comments
comments