Kate Middleton, the girlfriend of Britain's Prince William, may pose nude and covered in body paint for a charity calendar.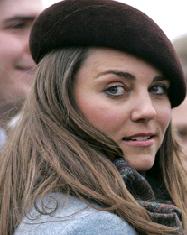 Her all-girl rowing team, The Sisterhood, to strip n@ked and raise money for a children's charity, is urging the 25-year-old brunette.
Emma Sayle, a friend of Kate, revealed, "Kate is strongly considering it. We are all leaning on her a bit."
Kate, who has been training with The Sisterhood in preparation for their attempt to cross the English Channel to France on August 25, would join friends including Emma and Alicia Foxx-Pitt in posing for the calendar.
Models who agree to take part in the shoot must strip n@ked and are then adorned with body paint to make them appear as though they are wearing sporting outfits.
Emma added, "We realize if Kate was involved, sales of our Art Of Sport calendar would go through the roof."
Only five months have been shot so far, so the charity are hoping Kate agrees to appear and will also encourage her other friends to strip for the calendar.
Comments
comments