Kate Middleton's drug-taking uncle was warned about his behavior by the security services more than a year ago, friends said last night.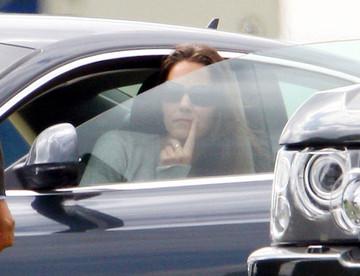 Gary Goldsmith claimed he had been approached by unspecified officials who urged him to 'modify' his hedonistic lifestyle on Ibiza, where he owns a £5million villa visited by his niece and Prince William, for fear of embarrassing them.
The businessman, who was filmed handling cocaine and boasting about his association with the royals by a newspaper, told friends: "They have been on to me and I've got to keep a low profile and be a good boy. I am going to stop all the drugs and clean up my act."
His claim suggests there has been long-standing concern about his behaviour, begging the question why William was allowed to use his house for a week's holiday in 2006.
Goldsmith, 44, who was at the villa at the time, even arranged a yacht for the prince and Kate to use.
William, 27, has been forced to cut ties with Goldsmith, the only brother of Kate's mother Carole, after the News of the World exposed him as giving a reporter cocaine and offering to set them up with prostitutes.
He also bragged about his friendship with William, who has been dating his niece for eight years, and claimed the couple planned to announce their engagement later this year.
The revelations have caused huge embarrassment to the Middletons and sent shock waves around the palace, although William, who is close to Kate's family, is standing by them.
Carole Middleton is said to be particularly distressed. Although angry at her brother, she is also worried about his state of mind.
An inquest has already begun, however, into why the friendship with Goldsmith was encouraged when his questionable behaviour was already an open secret in family circles and, it now seems, officially as well.
It is not clear who might have warned Goldsmith, although senior security officials indicated that it was more likely to be a matter for Royalty Protection and the Metropolitan Police.
A source said: "Gary is said to be beside himself – practically suicidal – over the revelations but in truth he was always an accident waiting to happen."
The businessman, who has his initials tattooed on his shoulder, describes himself as a 'London boy made good' and is definitely a larger than life character.
Friends recalled an incident last year when he was staying at the Park Lane Hilton which allegedly ended with police being called after he ran through the streets of Mayfair in his boxer shorts in a 'distressed' state.
He acquired his fortune after his business Computer Futures, which recruited staff for the computer industry, was sold in November 2005 for an astonishing £275million.
He has also made a profit from buying and selling property – he currently owns a £1million mews property in London as well as his sprawling Spanish estate.
One former business associate said: 'He made an absolute fortune when Computer Futures was sold. He was a business genius in that respect.
"He took himself off to Ibiza afterwards where he has had fingers in a few pies but has never really needed to work."
"When I knew Gary he was a very genuine, kind-hearted and nice guy. It seems as if he has had too much time on his hands and got sucked into that Ibiza lifestyle."
Goldsmith has enjoyed something of a chequered private life.
He has married twice, to women several years younger than him and has a child by his first wife. He now has a new girlfriend, a former lap dancer.
One family member said: "Seeing him all over the newspapers has come as a hell of a shock. He is really quite a nice chap but he really has fallen by the wayside."
"He's made a lot of money in business and when you meet him you would say, "This man's no fool" but what he has done now is a severe embarrassment to friends and family. Many of them – including Kate's parents – will be distancing themselves from him now."
Sources in Spain said the national police were investigating the newspaper claims but felt it unlikely that any action would be taken against him.