Katie Holmes and Tom Cruise, who opt for matching gray look just like their pals Victoria and David Beckham, continues to be a style icon as they went a romantic date on Sunday, September 28.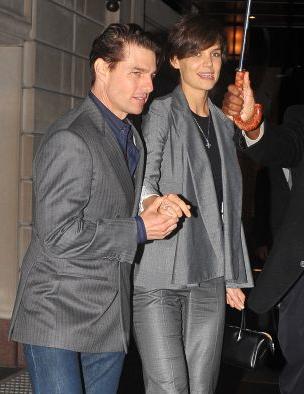 The celebrity couple dined at the Il Valentino Italian restaurant at the Sutton Hotel in New York City.
Katie Holmes charmed in a metallic silver suit – a front-open swing jacket with folded cuffs over a black crew neck top and straight leg pants.
She accessorized with a cross pendant necklace, a black handbag and black peep toe platforms, revealing her scarlet toes. Katie makes sure her short chestnut brown hair does not look monotonous.
Tom Cruise paired his blue jeans with silver gray double breasted coat over a dark blue shirt and black dress shoes.
Katie's parents, Marty and Kathleen, attended a preview of their daughter's debut Broadway show "All My Sons" at the Gerald Schoenfeld Theatre Saturday night, September 27.
Tom attended the preview on the first day itself: Thursday night, September 18. The official opening of the show is on October 16.
Comments
comments