Katie Holmes will be drawing gasps for all the wrong reasons at tonight's awards ceremony.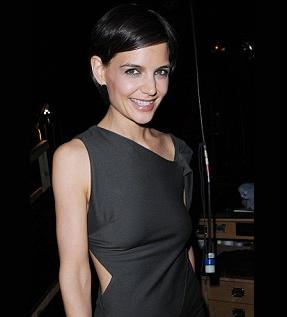 Slimline Katie has lost even more weight on an extreme diet called Purification Rundown.
Endorsed by husband Tom Cruise's Church of Scientology, the detox regime has left the 30-year-old looking painfully thin.
A source revealed: "Katie has spent the past ten days resting before she accompanies Tom to the Oscars. She missed the Armani party in New York recently because she was so tired."
Katie's frame has been getting noticeably slender since she moved to New York for her Broadway run last year.
In the last few weeks of her gruelling run in the production of All My Sons, which finished in January, Katie was spotted looking pale and drawn when photographed outside the theatre.
In December, she was spotted carrying a bottle of cult drink Celsius.
The drink claims to contain a 'thermogenic blend' which increases metabolism in order to burn calories.
Each bottle contains less than 10 calories..
Tom's latest movie, Valkyrie, has not been nominated for any Oscars.
In the film, he plays Colonel Claus von Stauffenberg, one of the key figures who plots to assassinate Hitler.
Comments
comments