Katie Holmes revels in the joys of husband Tom Cruise's fat bank account.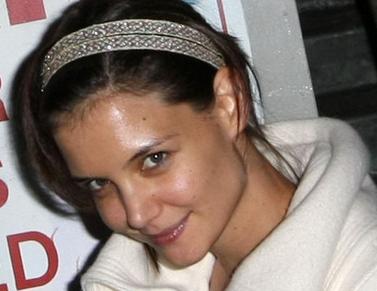 And her family jokes that she's become an out-and-out shopaholic.
The 30-year-old actress is in Melbourne, Australia, with Tom as she shoots her new movie Don't Be Afraid of the Dark. Those on the set call her a "true professional." But when the cameras stop rolling, Katie heads for the stores with 3-year-old daughter Suri in tow.
"She loves to shop," a source told The ENQUIRER. "In Melbourne, she goes everywhere from the high-end shops on Chapel Street to the low-end stores like Target. That woman can give a credit card a workout!"
Since first hooking up with box-office king Cruise in 2005, Katie's shop-until-you-drop forays have become the stuff of legend.
She reportedly blew through $200,000 at Barneys in Beverly Hills in a single calendar year, spent a jaw-dropping $14 million while living for six months in New York City last year, and earlier this spring spent some $43,000 for a makeover and spa treatments.
Tom, 47, appears undisturbed by his wife's frenzied spending. The actor is said to be worth nearly $250 million.
A friend told The ENQUIRER: "His ex-wife Nicole Kidman was a spendthrift, but compared to Katie, she's a coupon clipper."
Tom is just happy that Katie is happy.
"It's a situation where he does his thing, she does hers – and hers is shopping," said the friend.
"She thinks nothing of heading off to Paris and buying designers' latest creations. Price tags mean absolutely nothing to her."
Comments
comments