Katie Holmes, who tried out different hair styles such as Cagney and Lacey 80s bob and copied the famous 'Pob', was spotted wearing another hairstyle.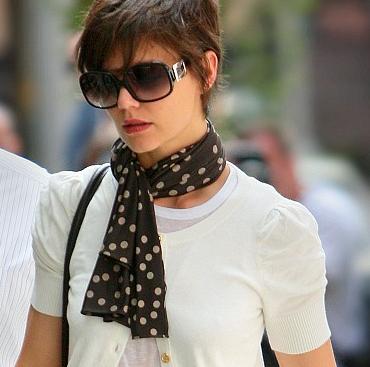 The "Mad Money" actress debuted her new wash-and-go pageboy look after another rehearsal session for her Broadway show in New York yesterday. While her whispy crop is all new, her outfit was rather familiar.
She was wearing her favorite comfy baggy jeans, which are 'pegged' at the bottom, for the third time in a row.
Katie Holmes appears to be dressing more for comfort these days, her staple look more in keeping with that of a mum-on-the-run than the multi-millionaire wife of Tom Cruise. She thrown herself back into work in recent months after taking time out to raise her 2-year-old daughter Suri.
The actress is gearing up to make her first appearance on Broadway in a production of All My Sons, which opens in October.
She recently wrapped filming a guest appearance as a non-profit attorney in one episode of US television drama Eli Stone.
But with her work over for the day, Katie Holmes went back to mum duty and took her mini-me daughter to the park in downtown NY. She spent the afternoon pushing her charge on the swing, much to the toddler's delight.
Meanwhile her figure-hugging outfit revealed a protruding belly which set off a flurry of speculation in the U.S that she is expecting her second child.