"American Idol" champion Kris Allen said on Friday he just wants respect in the music industry — but runner-up Adam Lambert has stars in his eyes.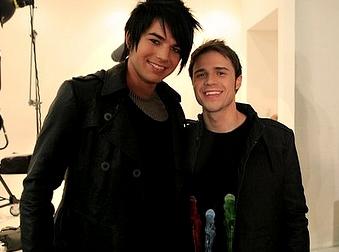 Allen, 23, an unassuming college student from Arkansas, was this week named the winner of the TV singing contest, defeating the more showy Lambert, who was the presumed front-runner.
"The only thing that I really want to do is just be respected in the music industry," Allen told reporters in a conference call. "And whether that means selling albums or winning Grammys or people just liking your music, that's what I really want to do."
The win gave Allen a guaranteed record contract with 19 Recordings and its affiliated labels. He said he planned to release a CD soon after the U.S. nationwide summer tour of this year's top 10 "Idol" contestants.
Songs from both Allen and Lambert from the "Idol" season are already in the Top 10 of the iTunes music charts.
Allen, a guitar and piano player who started writing music six years ago, said he and his wife of eight months, Katy, talk a lot about how his newfound fame could affect them.
"Things are definitely going to change, but we're really strong and she's really cool so we don't have any question that everything's going to be fine," he said.
For his part, Lambert sees a future full of opportunity. He said he has talked to record company officials about the kind of album he hopes to make if, as widely expected, he is signed by a label.
Many Lambert fans expect the contestant nicknamed "Glambert" to try to revive 1970s glam rock after his performance with bands KISS and Queen on the show. But Lambert does not plan to make rock his sole focus.
"I don't want to do one specific genre," said Lambert, 27. "I'm more about fusion, I kind of like adding little elements of things into the final mix."
Lambert, from California, said he would like to work with guitarist Slash, who served as a guest mentor on "Idol," and with Queen guitarist Brian May, with whom he performed in the show's finale.
A former cast member of stage musical "Wicked," Lambert said he has no immediate plans for Broadway but would also like to act in a movie.
"In the heyday of Hollywood, artists got to do everything. They did music and they did film. And I would love to go that direction," he said.