Looking in high spirits as she gave a wave and smiled to a crowd of fans and photographers, Katie Holmes was spotted out on Saturday (May 23) getting ready for the upcoming National Memorial Day Concert in Washington DC.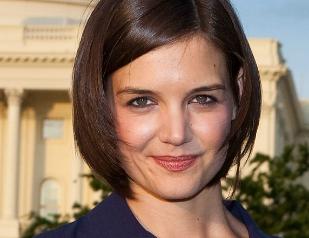 The 30-year-old actress will get help re-enact a veteran's family from her All My Sons co-star Dianne Wiest.
There for the day's rehearsal session, the "Mad Money" actress will star as Elizabeth Pequeno, sister of an injured Iraq war veteran, in tomorrow's festivities, which will be broadcast from the U.S. Capitol on PBS.
"It's important to tell these stories and honor the sacrifice and service of these men and women," Holmes told press. "It's a real gift to be able to portray an American of such strength."
And Katie will certainly have her own little cheering section tomorrow, as hubby Tom Cruise has made his way to DC from LA.
The "Top Gun" stud was spotted taking daughter Suri and son Connor to lunch at Cafe Milano earlier today, tending to his fatherly duties as his wife was hard at work.
The National Memorial Day Concert will broadcast from the West Lawn of the U.S. Capitol on Sunday @ 8PM ET/PT on PBS.
Comments
comments