Kristen Stewart has shot down rumors she's dating her Twilight and New Moon costar Robert Pattinson – insisting they're just good pals.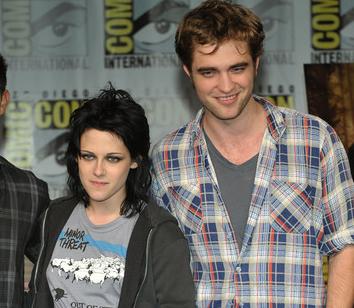 Rumors of a romance have been rife for months, with recent reports claiming they spent the night together at a hotel in San Diego.
But Kristen, 19, is adamant she's still with her longtime boyfriend, actor Michael Angarano.
Asked by Britain's Top of The Pops magazine if the dating rumors are true, Kristen said, "No. Rob and I are good friends.
"We went through a lot together, so we feel very close. I've acquired a good buddy and that's a big deal, but I haven't left my boyfriend for Robert Pattinson!"
Kristen and Rob, 23, reunited at Comic-Con in San Diego last Thursday.
The pair had spent most of the summer apart. Kristen has been in Los Angeles filming Joan Jett biopic The Runaways; Robert has been in New York filming indie drama Remember Me.
The duo attended the eagerly-awaited event to promote the Twilight sequel.
During interviews, Stewart wasn't as forthcoming when quizzed about her love life.
When one reporter asked Rob and Kris about their romantic relationship, Kristen rolled her eyes, laughed and said, "Are you kidding me?"
Another reporter said, "This question is for Kristen and Robert. You guys have great chemistry on film, romantically. Is there any chemistry off camera?"
Comments
comments