Leonardo DiCaprio has reportedly split from his girlfriend Bar Refaeli.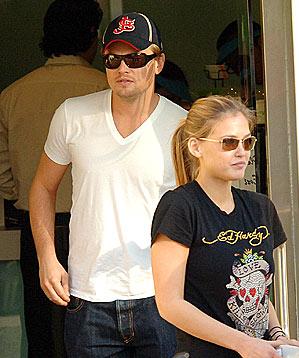 The "Titanic" actor and the Israeli model, who began dating in November 2005, have both been spotted enjoying nights out without each other, and 23-year-old model Bar seeming particularly keen to attract some male attention during a recent evening in Las Vegas.
A source revealed: "She kept saying she needed to meet a hot guy. She was on the prowl. Bar was having a blast."
Leonardo, 33, was recently seen downing shots of vodka while out with his friends in New York.
A source dished the scoop: "He kept calling it a great boys' night. He was taking shots of Grey Goose and talking to everyone. Leo's been a fixture on the nightlife scene recently."
The actor was also spotted flirting with a mystery brunette in a New York nightclub, although the pair did not exchange telephone numbers.
Leonardo and Bar's relationship has been notoriously stormy. They were reported to have briefly split last October, only to be seen sharing a "long passionate kiss" at a New Year's Eve party in December.