British pop star Lily Allen was reportedly subjected to a humiliating strip search after landing in the United Arab Emirates on Thursday (20Nov08) for the launch of an exclusive Dubai hotel.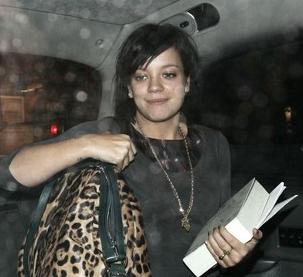 The "Smile" singer joined celebrities including Hollywood stars Robert De Niro, Denzel Washington, Charlize Theron and Lindsay Lohan, to watch a performance by Kylie Minogue at the grand opening of the Atlantis Palms Hotel on the man-made Palm Jumeirah Island.
But before mingling with the A-list guests, Allen and her pal Nick Frew were forced to undergo a full-body search by airport security.
According to a report, Lily Allen was reportedly overheard telling Welsh actor and fellow party guest Rhys Ifans, "I was strip searched at the airport. It wasn't that bad. But Nick got the full works."
Another report indicated that the "Smile" singer was quoted as saying: "I was strip-searched, which was so nice as soon as you arrive. I knew I didn't have anything on me so I wasn't worried. I wasn't paranoid, just terrified. 'It was at the airport and took more than an hour. It was really scary as they didn't tell you what they were doing, they just said, "Take off trousers" and I was like, "Ahhh help"."
However, Lily Allen recovered from the incident in time for the glitzy bash, where she donned a blue strapless gown and accessorized her outfit with $14.9 million (GBP10 million)-worth of borrowed diamonds.
Organizers did fear that Dubai's strict laws would cause a problem for guests, and issued them all with a leaflet warning of the dangers of bringing drugs into the country.
An insider revealed: "It's been very embarrassing for the organizers. They got celebrities for the publicity, and in return the stars were promised they would be treated like royalty. Many of them feel very shaken and violated by the strip searches. It's ruined their trip."
Comments
comments