Lindsay Lohan celebrated her 21st birthday at her rented Malibu beach house. The 'Mean Girls' actress, who was casually dressed in a stripy bikini, hosted a barbeque for close friends and family on Monday afternoon.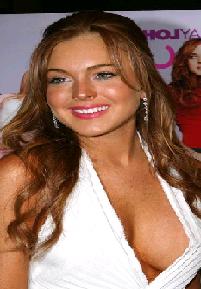 The actress invited her former boyfriend Calum Best, her mother Dina, her brother Dakota and her sister Ali.
Dina Lohan revealed, "I can't believe she's 21. We're all so proud of how hard she's been working to get better."
Lindsay Lohan ordered an ice cream birthday cake because it reminded her of her childhood and guests stuck to non-alcoholic drinks. The patio area was decorated with white candles, hammocks, large umbrellas and sofas.
Guests played volleyball and danced to Lindsay's favorite tunes – including Beyoncé Knowles' hit track 'Irreplaceable' and Rihanna's 'Umbrella' – played by Lindsay's close friend DJ Samantha Ronson.
The actress, who spent the afternoon playing beach ball with her siblings, received a series of presents, including blue Louis Vuitton shoes, a skull necklace and a beach cruiser bike. She kept paparazzi, which are waiting outside, happy by sending them five cheese and pepperoni pizzas. She also gave each of her guests a visor with her initials emblazoned across it as they left the bash.
Comments
comments