Lindsay Lohan, who previously opened up about her relationship with Sam Ronson, gives her 14-year-old sister dating tips.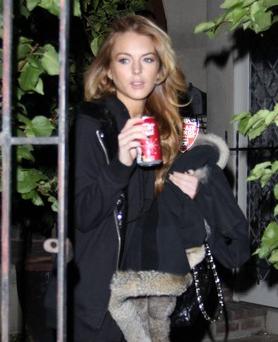 The "Mean Girls" actress, who is currently in a relationship with DJ Samantha Ronson, has told Ali not to worry about her sexuality, insisting she must do whatever makes her happy.
She revealed: "Ali's very mature. I've told her that it's OK to like a boy or a girl if you're comfortable with it and it's something you believe you want to do. And I told her not to be afraid of who she wants to be."
The 22-year-old actress also revealed her sibling fully supports her relationship with Samantha because she likes seeing her so happy.
She continued: "Ali has known Samantha for a really long time. And she's like, 'Whatever it is, I support you. I probably won't ever do what it is you're doing, but I'm happy for you.' "
Although Lindsay's father Michael has not been quite so willing to accept her new relationship, he recently publicly apologized to the star for branding Samantha "hideous" as she insisted that he "is not a bad guy" and sometimes doesn't think what he is doing.
Explaining why her relationship with Michael is currently strained, Lindsay added to Harper's Bazaar magazine: "I would love to say it's surprising, but it's not. It doesn't bother me as much as embarrass and hurt me. And put a knife in my back. And it's hard because I was flipping through channels and someone called him a loser. And that's my f***ing father! He's not a bad guy. He's just making bad choices."
Comments
comments