Lindsay Lohan was busted getting it on in with a fellow patient in a toilet cubicle by rehab center staff.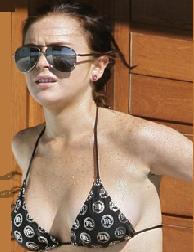 Staff at the Cirque Lodge retreat in Utah was alerted after hearing moaning coming from a cubicle after Lindsay Lohan had been instructed to clean up the bathroom area.
A source revealed, "there were strange noises coming from inside and two voices could be heard. When they opened the door, Lindsay was in a compromising position with the guy – who's also at Cirque for drug rehab."
As for the description of the guy who was with Lindsay Lohan at that time, the source described, "He was a good looking bloke – tall, with brown hair and quite muscular – just what Lindsay likes. Rumors spread like wildfire across the place that they'd been having sex.
The source added, "When staff found them they were all flustered and Lindsay's hair was all over the shop. They looked like two naughty children who had been caught kissing behind the bike sheds."