Lindsay Lohan has shrunk back down to what looks like a unhealthy size zero as she stepped out in Beverly Hills recently.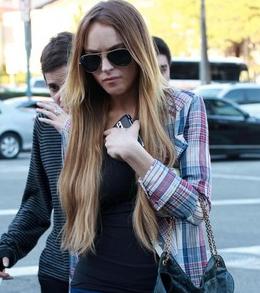 The "Mean Girl" star seems to have slimmed down substantially since last summer when she appeared to be sporting a much healthier frame.
Her tiny frame comes amid speculation she has been rowing with DJ girlfriend Samantha Ronson in recent weeks.
The pair were reportedly embroiled in a fiery argument on New Year's Eve in Florida.
Wearing a pair of skinny jeans, Lindsay's thighs looked almost as slim as her calves as she strolled along the street in Beverly Hills yesterday.
Teaming her jeans with a black vest, checked shirt and shoe boots, Lindsay looked gaunt as she perused the designer stores.
Joining Lindsay on her shopping expedition in 90210, was Samantha.
Lindsay Lohan was plagued by accusations of an eating disorder in 2005 when her skeletal features made headline news.
But since then the actress seems to have kept a conscious eye on her weight, even commenting on how ugly her former skinny-self looked.
She revealed in 2006: "Sometimes being that thin doesn't look healthy. I kind of didn't realize that. I lost weight when I was in the hospital, and then I wanted to keep it off. It was an attention thing, too. [But] you start to wonder if your friends are your friends because you look a certain way."
Comments
comments