Marilyn Monroe, which appeared to have been shot in the 1950s, has sparked sex tape rumors.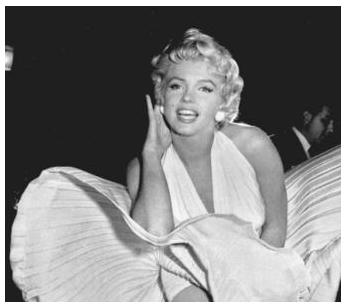 The sexy actress, which you could see her stunning actress here and here, has tapes that had been sold to a wealthy New York businessman for 1.5 million dollars. Her FBI classified alleged explicit tape appeared to have been shot in the 1950s.
The 15-minute footage shows that the sultry actress was on her knees performing explicit act with unidentified man. When the tape, shot on 16mm film, came to light in the 1960s, J. Edgar Hoover unsuccessfully tried to prove the man in the video was either John F. Kennedy or Robert F. Kennedy.
According to declassified FBI documents, Joe DiMaggio once offered $25,000 for the film. A well-known memorabilia collector revealed, "You see instantly that it's Marilyn Monroe – she has the famous mole."
The FBI, which confiscated the original footage revealed, "She's smiling, she's very charming, she's very radiant, but she's known for being radiant. She moves away, and then it [the footage] stops.
She never looks directly into the camera; however, it would be extremely difficult for her not to have known she was being filmed. Filming was a much more complex and noisy operation in the 1950s."
Morgan revealed, "He said he's just going to lock it up. I'm not going to make a Paris Hilton out of her. I'm not going to sell it, out of respect."
Comments
comments