Angelina Jolie, who previously confirmed that she was pregnant with twins, was seen in a beautiful gown with her beau Brad Pitt.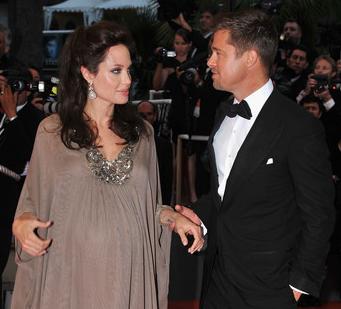 The "Tomb Raider" actress manages to remain concealed despite the lack of straps on her dress.
The celebrity couple was reportedly having fraternal twin girls in August. They could not agree on the names of their babies: Gemini Angie wants to name the girls Castor and Pollux.
They took two of their kids, son Maddox, 6, and daughter Shiloh, almost 2, for a shopping spree at children's clothing boutique Bonpoint in Cannes, France on Monday.
Brangelina was expected to be back at the Cannes Film Festival on May 20 for the "Challenging" premiere.
Update: Angelina Jolie and director Clint Eastwood was spotted arriving for the "Changeling" premiere at the Palais des Festivals during the 61st International Cannes Film Festival on May 20, 2008 in Cannes, France.
Comments
comments