Michael Jackson ingested an astounding 10,000 pills in the last six months of his life.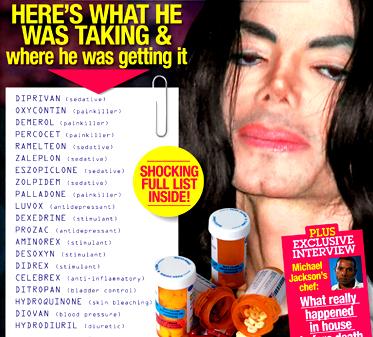 That's more than 50 pills a day – and it's the incredible estimate of law enforcement authorities probing the 50-year-old King of Pop's sudden death on June 25, according to a ENQUIRER report.
The music icon was taking more than 30 different types of drugs "for a variety of real and imagined" problems, according to police sources close to the official investigation – who have disclosed a list of those drugs.
"Incredible as it may sound, investigators estimate Jackson ingested a staggering 10,000 pills in the final six months of his life. He was literally living on drugs," a close source divulged.
The probe into Jackson's drug use heated up when confidential informants alerted LAPD detectives to evidence in the rented Holmby Hills mansion where the singer died, said the source.
"Michael's family had already removed personal belongings, but the drugs were hidden in the chateau," said the source.
"Armed with a search warrant, the detectives were given a specific 'hiding place' where they recovered a cache of drugs and other materials that could be used in a possible criminal case."
The drug stash included the powerful anesthetic Diprivan. Also known by its generic name Propofol, it is normally administered intravenously in hospital settings