Robert Pattinson strips down and poses soaking wet in a super sexy, never-seen photo shoot that only the new issue of Us Weekly has.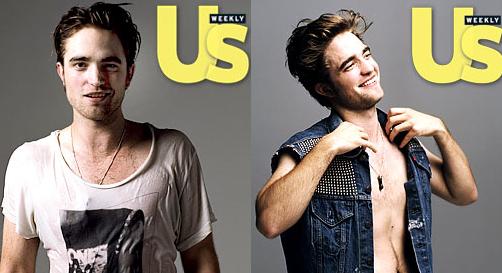 The Twilight star, 23, shows off his abs and smiles in one of the pics, originally taken for Rolling Stone. In another, he runs his hands through his famous hair while brooding.
"They threw a bucket of water on him!" a source on set tells Us of his wet T-shirt look. "He was willing to do anything. Didn't complain at all."
The pics — taken in NYC over five hours by photographer Theo Wenner — were inspired by a 1991 River Phoenix film My Own Private Idaho and James Dean.
For more exclusive pages of smoldering photos and all the shoot details (including the joke he made about his body), pick up the newest issue of Us Weekly, on stands today.
Pattinson recently revealed that he "goes nuts" when he kisses a girl.
"I always get carried away when I'm kissing," he told Twist magazine. "I just go nuts! Walking away after it is the strangest moment for me. It's embarrassing — not knowing what to say to each other."
Comments
comments