Michael Jackson celebrated his final Christmas with his three children — and with dermatologist Arnold Klein, the biological father of Paris, 11, and Prince Michael I, 12.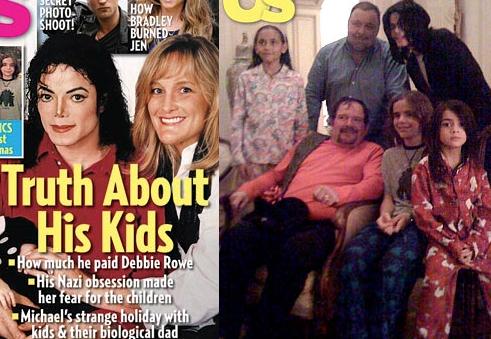 Us Weekly reports in its new issue, which will hit the newsstands tomorrow, that Klein brought Star Wars icon Carrie Fisher, a close friend, as a surprise guest for the kids to Jackson's $100,000-a-month Holmby Hills, California rental.
Fellow guest Stephen Price, a close friend of Klein's, said that Michael Jackson had mentioned to Klein that Paris, Prince and Prince Michael II (a.k.a. "Blanket"), 7, were fans of Star Wars and would like to meet Fisher. Around 9 p.m. on Christmas Eve, "Michael brought the kids down in their pajamas and said, 'This is Princess Leia,'" Price recalls. "They were so excited! She did her famous speech for them — the 'Help me, Obi-Wan' speech." Price says of the Jackson kids, "They are the greatest kids you'll ever meet."
As for Klein, who had employed Paris and Prince's mother, Debbie Rowe, for 23 years, Price would only say "no comment" about his longtime pal's status as their biological dad.
For more details and never-seen photos from Jackson's magical last Christmas, how much Jackson paid Debbie Rowe to have two of his children, how his obsession with Nazis and onetime relationship with the Nation of Islam made her fear for the children, and the secret meeting between Joe Jackson and Debbie Rowe — pick up the new issue of Us Weekly tomorrow.
Comments
comments