Michael Jackson suffered an apparent cardiac arrest at his rented home in Los Angeles Thursday — and his kids, staff and doctors thought he was messing about; pretending to be dead, according to a new report.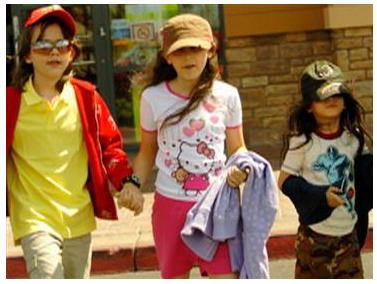 The singer, 50, died Thursday (June 25) afternoon after paramedics were unable to revive him.
"An air of crisis swept through the house like a whirlwind," a source told Britain's News of The World newspaper.
"The three children had been taken to another room by their nannies, but they thought their dad was just fooling around. He often played dead and would then jump up and surprise them, so they thought he was just having a bit of fun.
"But when they saw the emergency trucks arrive, that really shook them. There were paramedics running upstairs and ambulance sirens blaring. The kids were terrified and started crying and howling for their dad."
"It was terrifically sad," added the source. "Murray [Jacko's doctor] told us he thought Michael was joking around, as he often did to entertain the kids. But this time, tragically, it was real. Murray tried to talk to Michael to rouse him but soon realised it was no joke. It suddenly dawned on him he was in deep trouble.
"As he got louder he called out to other staff to help him. Others came in and saw Michael looking sickly white, collapsed on the bed. He was then dragged off the bed and another few attempts were made to resuscitate him.
"Murray looked close to tears and could barely speak. That's when the 911 call was made. But Murray suspected Michael was already dead.
"We were told that Michael had also been given a tranquilliser shot in the night and was pacing around the house frantically.
"He'd had a long day at his show rehearsals, which had ended after midnight. Weirdly the work left him completely wired – he was so exhausted he couldn't sleep.
"He couldn't sit down or stay still for a second and asked for a shot to calm his nerves.
"Lord alone knows how many sleeping pills he'd also popped to try and nod off. Michael was just on edge, a wreck and a complete mess. He complained that his heart and chest were pounding.
"He used to say to me he wanted to go out like Elvis, not like Marlon Brando. And I think on some subconscious level he had an inkling.
"He might even have had what they call a death wish."
Jackson's autopsy was completed Friday. The L.A. County Coroner said there was no trauma to the star's body and "no indication of foul play".
The coroner said that Michael had been taking "some prescription medications."
The coroner said the cause of death was deferred because additional testing — including toxicology and other tests — is needed. It will take 4-6 weeks to complete.
However, the Jackson family is seeking a second autopsy.
Comments
comments