Miley Cyrus looks breathtaking in a Moschino Cheap and Chic nude silk cowl neck halter dress with a back ruffle as she arrives at the 2009 MTV Movie Awards held at the Gibson Amphitheatre on Sunday evening (May 31) in Universal City, California.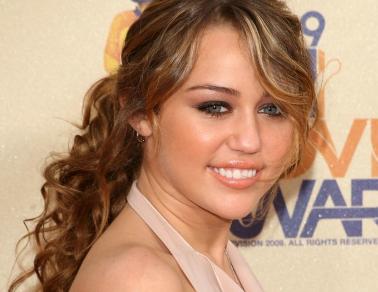 The 16-year-old starlet completed her look with Robert Lee Morris for Elizabeth and James jewels. Beautiful!
Hosted by Andy Samberg, the 2009 MTV Movie Awards will air live @ 9PM ET/PT on MTV. Presenters include Jonah Hill, Vanessa Hudgens, and Leighton Meester
Meanwhile, Miley Cyrus enjoyed a day off on Saturday, May 30, going out for lunch with BFF Mandy Jiroux, attending a birthday party for elder sister Brandi and watching Teenage Mutant Ninja Turtles.
Miley and Mandy lunched on Chinese food at City Wok in Studio City, CA.
Dressed her age, Miley paired skinny blue jeans with a long sleeveless grey jacket atop a white sleeveless ribbed tank top. She accessorized with black sued fringed boots, white studded shoulder bag, multiple necklaces, bracelets and rings. Her wavy blond hair with platinum highlights draped her shoulders.
Miley is up for two Golden Popcorn trophies at the MTV Movie Awards tonight.
In the Breakthrough Performance Female category she has been nominated for her role in Hannah Montana: The Movie and is competing against Amanda Seyfried (Mamma Mia!), Ashley Tisdale (High School Musical 3: Senior Year), Freida Pinto (Slumdog Millionaire), Kat Dennings (Nick and Norah's Infinite Playlist) and Vanessa Hudgens (High School Musical 3: Senior Year).
Her single The Climb (Hannah Montana: The Movie) won her a nomination for the Best Song From a Movie, a category in which she is competing against A.R. Rahman Jai Ho (Slumdog Millionaire) , Bruce Springsteen The Wrestler (The Wrestler) and Paramore Decode (Twilight).
"plllleeeasseee vote for me for the mtv movie awards! omgosh i am a nervous wreck 🙁 ahhh i need @mandyyjirouxx time," Miley tweeted early this morning.
Comments
comments