Miley Cyrus, responded on the controversial pictures capturing herself and boyfriend Justin Gaston jogging on Saturday, February 28.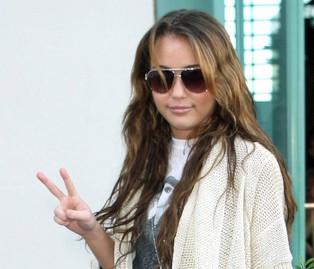 The "Hannah Montana" star said she wasn't trying to give photographers a show when she wore a cleavage-baring top during a weekend jog with her shirtless older beau Justin Gaston.
She revealed Monday on Ryan Seacrest's KIIS-FM radio show: "I don't get the big whoop, but whatever. I guess it's just… I'm not allowed to jog any more."
The New York Post remarked that the 16-year-old singer put herself "on full display … in a cleverly crafted photo op that would make green with envy."
But Cyrus shot back: "I don't get why people are allowed to take pictures and make them something they're not, but I guess that's just how their job works and how they'll make the most money."
So why was she dressed so skimpy? Cyrus said she was with her 8-year-old little sister, who "wanted to have a car wash. So I was like, 'OK, we're going to have a car wash.'"
They agreed to wash Gaston's "really hideous truck."
"It's, like, 100 degrees out," said Cyrus, who wore shorts and a bathing suit top under her mom's baggy T-shirt.
Regarding the low-neck shirt she wore and the shirtless boyfriend, the "Fly on the Wall" singer commented that it was just an ordinary thing that must not be sparked.
She explained: "As I'm running, [my shirt] got a little bit lower and you could see a little of the bathing suit top. So, oh my goodness, Miley Cyrus wears a two-piece! Kill me!"
Miley Cyrus was shot jogging along with Justin Gaston around her neighborhood at Toluca Lake in the San Fernando Valley in Los Angeles.
Comments
comments