In a post on her Twitter account, the Disney actress-singer denies reports of Nick Jonas giving her a commitment ring, writing "Don't believe anything until I tweet it."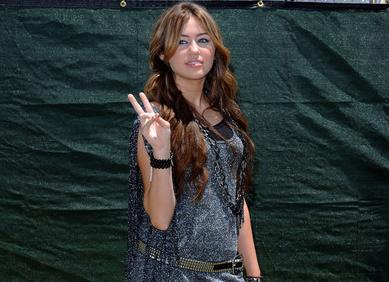 Reports of Nick Jonas giving Miley Cyrus a commitment ring are not true. The 16-year-old actress-singer puts the brake on the false circulating claim, posting a denial on her Twitter account that read, "Sooo I woke up this morning and thought I'd check up on the daily gossip and apparently Nick Jonas gave me a $75,000 ring? Its all true. Ha!." The Disney star then quickly adds, "P.S. My last tweet was very sarcastic. Don't believe anything until I tweet it 🙂 (Unless its good news of course hehe)".
On Wednesday, July 22, reports were mounting all over the web that Nick has presented Miley with a commitment ring. In Touch Weekly, which was claimed to be the first to report the matter, cited a close family friend as stating, "It's sweet and appropriate for her age. Of course, Miley thought it was perfect and beautiful. They are a very happy couple these days. They are too young to marry, certainly, but who knows what the future will bring?" And while the publication had no detail about the reported ring, it was claimed that the gem was gold with a diamond heart.
As for Nick, the youngest of Jonas Brothers hasn't issued a single comment just yet on the issue. His camp, in the meantime, also remains mum.
Comments
comments