Miley Cyrus, who is popularly known for her television series "Hannah Montana," has graced the cover of Cosmopolitan.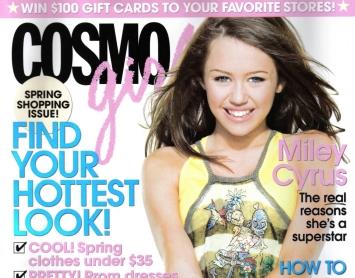 The "Hannah Montana" star became a Cosmo Girl as she hit the front cover of the magazine for its March 2008 issue with a catchy lines: The real reasons she's a superstar, which you could see here.
The teen sensation seems to be the very popular in show business after her new Hannah Montana concert film has broken pre-sale movie ticket records.
The 3D film was released in less than 1,000 cinemas in America on January 31 and tickets are proving as hard to come by as those for Cyrus' recent concerts.
Top online ticket sellers claim tickets for the Hannah Montana & Miley Cyrus: Best Of Both Worlds Concert accounted for more than three-quarters of all ticket sales on January 30.
One site, Fandango.com, claimed that the film is the site's best-selling concert film ever, selling out more than 1,000 showings and accounting for 91 per cent of sales as of Wednesday morning.
Comments
comments