Miley Cyrus had an embarrassing encounter with Jesse McCartney, after she revealed to him the first song she ever wrote was about the pop hunk.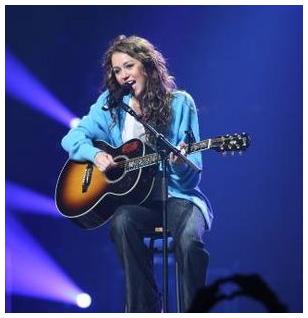 The "Hannah Montana" star became a huge fan of the singer when he was part of now defunct boyband "Dream", and the star was the inspiration behind the first song the 15-year-old penned.
But Miley Cyrus was left embarrassed after she was introduced to the McCartney shortly after moving to Hollywood, because he branded her lyrical tribute "cute".
She revealed, "It was so embarrassing, when I first moved to Los Angeles, I had a crush on Jesse McCartney. In fact, the first song I ever wrote was about Jesse. He was on my show and I told him and he was like, 'That's so cute!'"
But Miley Cyrus, who has now set her sights on a slightly more mature man, added, "Orlando Bloom is gorgeous, but he's a bit of a player."
Meanwhile, the Vanity Fair photo shoot of Hannah Montana star was not "offensive," according to Jesse McCartney.
The 21-year-old singer stuck up for the 15-year-old actress following the backlash the Disney Channel star encountered after posing for photos, which have been deemed too sexy for a teenager.
Miley Cyrus' clean-cut image was damaged by the release of images of her wrapped in just a satin bed sheet in June's edition of the U.S. magazine.
And Jesse McCartney can't understand why the media reacted so strongly. He revealed, "I think that people are nuts. I didn't find any of the photos offensive in Vanity Fair. I thought they were artistic if anything. It sucks man. Everything about Miley Cyrus was so sensationalized. I really feel for her you know."
Comments
comments