Miley Cyrus met her impersonator while impersonating Justin Bieber on "Saturday Night Live."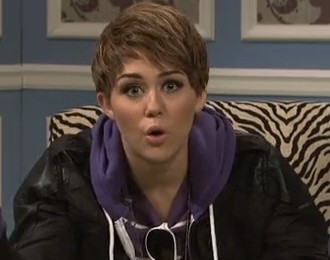 The teen star appeared in the sketch called "The Miley Cyrus Show" where cast member Vanessa Bayer impersonates her. She was sporting a purple hoodie while winking, pointing and hair flipping in Bieber fashion.
The incident of Miley's smoking salvia was also mentioned. Later in the sketch, Miley and Vanessa joined Jason Sudeikis, who was impersonating Billy Ray Cyrus, for a special performance.
Comments
comments