Miley Cyrus and Rihanna attracted people's attention with their fashion sense.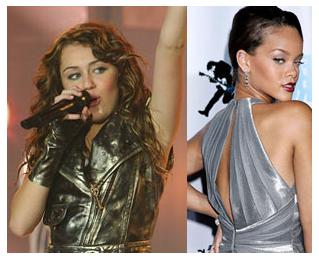 The celebrities, who wore short dresses at the In Style and The Recording Academy first ever Grammy "Salute to Fashion" event on February 7.
A fashion show during the evening featured collections by six musicians: Beyonce, Jennifer Lopez, Sean Combs, Jay-Z, Justin Timberlake and Jessica Simpson. None of the designers were present at the show.
While Rihanna is already a recognized style icon, Miley Cyrus is fast getting into the act of becoming one.
The "Hannah Montana" star, which was dressed with sleeveless sequined dress with multi color flower patterns, wore dark eye makeup and ankle strap stilettos.
On "Irreplaceable" singer's styling shoes, she revealed, "Her fashion is different. It's out there and fun."
Rihanna showed her delectable legs in a shorts outfit. The black lace dress with white lining had ruffled lace details on the high neck and the long sleeve cuffs.
Comments
comments