Miley Cyrus once donned a wig in an attempt to go undercover like her onscreen alter ego "Hannah Montana" but her plan was foiled when she set her hair on fire.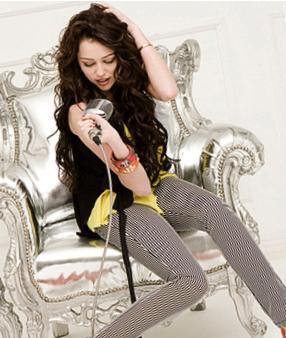 The Disney teen star, who shot to fame on her hit Disney TV series with her role of Hannah Montana, a pop star who wears a wig onstage to conceal her true identity as school student Miley Stewart.
Miley Cyrus attempted a similar stunt to go unnoticed by her fans – but her efforts failed when she used a straightening iron on the hairpiece.
She revealed: "I had the idea (to go out in disguise) so I got a wig and it was really short, a tomboy cut, and I decided to straighten it. I'm sitting down and all of a sudden I start smelling smoke."
She added: "I thought, 'What is that?' "The wig is literally catching on fire because I didn't know it was a cheap wig. And I thought, 'This isn't going to work for me.' So it doesn't work in real life but it works on the show!"
Meanwhile, Miley Cyrus was spotted at Los Angeles Studio Center in Downtown on Saturday, November 8. Later, in the evening Miley, 15, and her boy friend in training, Justin Gaston, 20, went to the movies to watch Madagascar 2.
As they left the theater, Miley was seen holding a rose presented to her by a fan. But the sweet surprise was a band on Miley's left hand ring finger!
In the morning, Miley wore a yellow crew neck Louisiana State University Tigers tee with gray sweat pants and cheetah print dark brown thong flats.
She carried a stylish brown Fendi messenger bag from the Fall/Winter 2008/2009 collection. Her yellow nail color on hands matched with the tee while the dark brown on the toes matched the thong sandals.
Her chestnut brown hair was stylishly set in an updo with her forehead almost hidden under the bangs.
Miley, along with the Jonas Brothers and Corbin Bleu, featured in the Walt Disney World Christmas Day Parade on Saturday morning November 8, at Disneyland in Anaheim, Calif. It will air on Christmas, December 25th @ 10AM ET/PT on ABC.
Comments
comments