Victoria's Secret Angel Miranda Kerr has stripped for Rolling Stone magazine tossing aside lingerie and all for a cover where she is chained to a tree!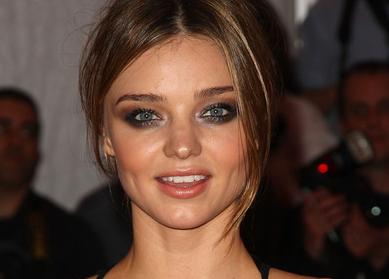 The home-grown model has posed for her first [email protected] photo shoot, appearing on the cover of the latest edition of Australian Rolling Stone. You could see her pictures here.
n the US Kerr, 26, is best known as a Victoria's Secret lingerie model and Orlando Bloom's squeeze, but back home she is also the wholesome face of David Jones.
She says she decided to go "au naturel" to raise awareness of the environment, specifically koalas.
"I feel strongly about the need to protect our natural environment because it supports our life – it really is that simple," Kerr tells the magazine, in stores on Wednesday.
Kerr shot the cover for Rolling Stone's first "green issue" in Sydney in January, with photographer Carlotta Moye behind the lens.
The day-long shoot also included a real koala named Koral, as Kerr is the face of the Australian Koala Foundation's No Tree, No Me campaign.
The campaign aims to protect koalas' natural habitat, hence Kerr's only prop for the shoot is a chain locking her to a tree.
"It's a sad thing – there are only about 100,000 koalas left in Australia," Kerr said.
"Something like 80 per cent of the koalas' habitat has been destroyed since Europeans arrived in Australia."
Kerr is also set to appear in American designer Marc Jacob's new Protect The Skin You're In T-shirt campaign, joining the likes of Eva Mendes, Heidi Klum, Dita Von Teese, Naomi Campbell and Victoria Beckham to raise awareness of skin cancer.
"I'm fully covered – at least, they've covered my bits with the words," she laughed.
"The great thing about having people recognise you is you can try to make a positive difference – that's what I'm trying to do, especially for young women," Kerr said.
Rolling Stone's inaugural green issue includes other well-known Australian faces – John Butler, Ruby Rose and Xavier Rudd – talking about environmental issues close to their hearts.
"I believe every effort we make now has a reaction – if we're making positive changes, if we're all doing the simple, small things we can do to help the environment, it makes a big difference," said Kerr, who tries to eat only organic food.
Comments
comments