Nicole Kidman is the new face of a brain-boosting computer game. The actress will appear in a series of TV and print adverts promoting 'More Brain Training From Dr Kawashima: How Old Is Your Brain?' which claims it can improve gamers' mental capacity by exercising their brains.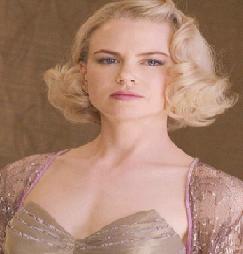 In the adverts, the 40-year-old actress is seen tackling the challenges on a portable Nintendo DS console.
The actress admits she is a huge fan of the game. She revealed, "I love the concept that Nintendo is reaching out to new audiences with their self-improvement products like 'Brain Training'. She added, "Most importantly, I've quickly found that training my brain is a great way to keep my mind feeling young."
The game includes a 'brain age check' that measures the speed and accuracy in which players complete math, cognitive and language challenges, which increase in difficulty as gamers progress.
Dawn Paine, the Marketing Director of Nintendo UK, is confident Nicole will boost sales of the game across Europe, where the advertising campaign will be shown. Paine revealed, "The 'Brain Training' phenomenon is sweeping the globe, enjoyed by over 10 million people from grandparents to Oscar-winning actors. We believe that Nicole's leading role in all the campaigns and the revelation of her DS Brain Age will surprise and excite people all over Europe."
Comments
comments