Nicole Kidman has put her promotional duties for new movie "Australia" aside to spend some time with her baby daughter in Paris.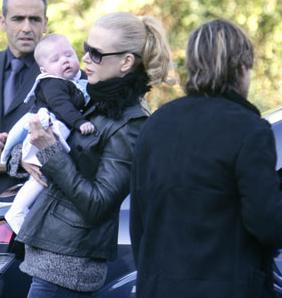 The Oscar-winning actress and husband Keith Urban took in the sights of the French capital with five-month-old Sunday Rose.
The baby girl, who has clocked up trips to England and Australia, this time, joined doting parents Nicole Kidman and Keith Urban on a whistle-stop visit to Paris.
The family of three enjoyed a quick tour of the city, with a visit to the Picasso exhibition held at the Grand Palais recently.
The 41-year-old actress has previously hinted that she may quit acting to focus on motherhood, but she talked down speculation she's planning to step away from the spotlight completely.
She explained during a press conference in Paris: "The rhythm of my life has certainly changed. In my teens and my 20s I wanted to change the world. Now I want to keep telling some beautiful stories… but a lot of me is about just getting to my family."
Nicole Kidman attended the Paris premiere of her latest flick at the Gaumont Champs-Elysees Theater yesterday.
Comments
comments