Oliver Stone, a Hollywood director, admits that he wanted to sleep with actress Angelina Jolie and his other leading ladies.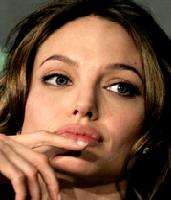 The 61-year-old insisted that the fact that though he had never had an on-set romance, he wished to bed every actress he had worked with, saying, "Unfortunately I've never had an on-set romance, I'm too conscientious. That's not to say I wouldn't have liked to, but unfortunately my job description limits me."
He continued, "I wish I'd had all of them, godd**mit! I like all the actresses I've worked with in some way or another."
As for the very thin frame of the actress, the filmmaker revealed, "She's always been on the – I wouldn't say skeletal – but thin side, that's her nature. But she's a beautiful woman."
The director also revealed that he might consider working with Lindsay Lohan if she were under control.
He added, "She's certainly talented, she's got great screen charisma. If she were under control, I would probably work with her. I wouldn't judge her past against her, as long as she's balanced. There are a lot of talented people in the world, I could work with Paris Hilton, too. I wouldn't cross off anything off the list."
Comments
comments