Oprah Winfrey was reported to be "euphoric" over Senator Barack Obama nomination.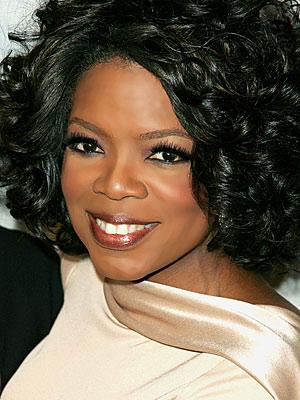 The television mogul, who is one of the early supporters of senator, revealed that she's "ready to go door to door."
Some critics have blamed Oprah Winfrey's vocal support of Sen. Barack Obama's presidential campaign for her recent slip in viewership, which is largely comprised of the "older white women" demo that has supported his former Democratic rival Hillary Clinton.
Oprah Winfrey released a statement Wednesday expressing her continued commitment to the presidential nominee, offering to step in and campaign for him wherever needed.
Her statement indicated, "I'm euphoric, I've been doing the happy dance all day. I'm so proud of Barack and Michelle and what this means for all of us … the new possibilities for our country. And if he wants me to, I'm ready to go door to door."
Meanwhile, Oprah is not only embracing her vegan experience. During the first week of Oprah's "cleanse", vegan chef Tal Ronnen, who graduated from New York City's Natural Gourmet institute and started the nonprofit program Veg Advantage to help food-service professionals integrate vegetarian options into their menus, prepared a meal that had Oprah gushing about being "baptised in Vegan Land".
She wrote on her blog: "Wow, wow, wow! I never imagined meatless meals could be so satisfying. I just cleaned my dinner plate, down to the last grain of brown rice left under my oh-so-deliciously seasoned soy chicken. I cannot believe how tasty, spicy and wonderful it all was. I'm ever more surprised at how I don't miss anything and feel so satisfied at every meal."
In her blog, Oprah Winfrey opened up about her quest to find a higher level of awareness and explains what has influenced her to become a more conscious eater. She wrote, "How can you say you're trying to spiritually evolve without even a thought about what happens to the animals whose lives are sacrificed in the name of gluttony?"
Perhaps the answer is really simple, in her blog revealed, "You can't. Animals must be included in our efforts to make the world a more peaceful place and Oprah is setting a great example. Animals feel pain every bit as much as we do, are terrified by the sights and smells of the slaughterhouse and are afraid to die."
Only time will tell if Oprah Winfrey will remain vegan – or at least eat significantly less meat, eggs and cheese after her 21-day cleanse, but her food revelations will likely have a profound effect on the way many Americans eat.
Comments
comments