Kate Hudson is said to be very despondent over her ex lover Owen Wilson's suicide attempt. The actress even broke down on the set of a film she is currently working on titled "Bachelor Number Two."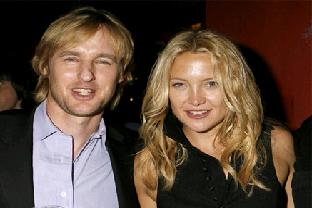 The former couple is on the cover of Us Weekly magazine this week and the tease promises what seems like a lot of charges. The sub-head suggests that cocaine and substance abuse and how his drug abuse made Kate leave.
There is a speculation that the actor's downward spiral only worsened after his split from Kate Hudson. A family friend revealed, "We always thought he was just too fun-loving, but now it's obvious he was just dealing with way too much to handle."
According to a website's report, the depressed actor visited St. Monica church in his neighborhood on August 23, out of either devotion or desperation. Three days later, Luke Wilson found his brother Owen in his Santa Monica, California, home with his left wrist slashed, having ingested a quantity of pills.
Owen Wilson, who was immediately rushed to the hospital, is now recovering on the eighth floor of Cedars-Sinai Medical Center, where one staffer was overheard saying to another, "Owen Wilson cut his wrists with a knife."
The actor's representative denies the actor has ever used heroin or cocaine.